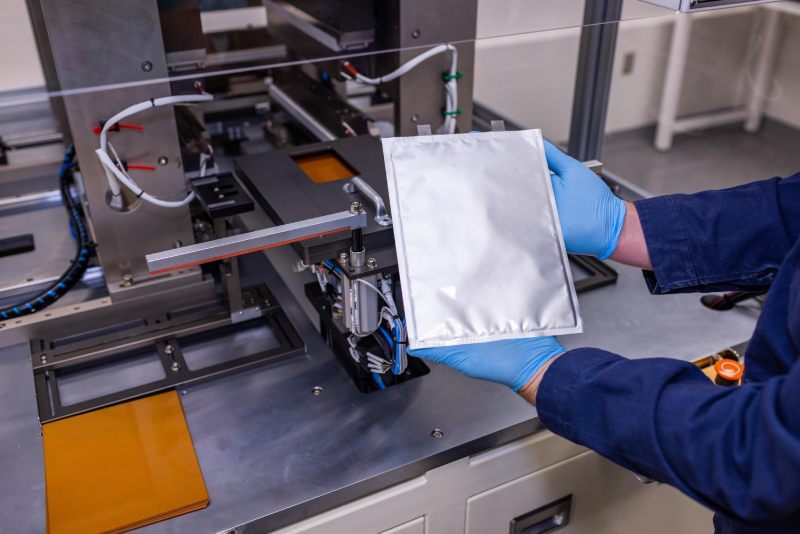 The performance of lithium ion at a fraction of the cost and risk.
Alsym™ Energy is working to enable and accelerate the electrification of vehicles, industries, and energy systems around the world. Alsym batteries take advantage of materials that are readily available and inherently non-flammable and non-toxic, reducing costs and increasing safety and sustainability.
Life without lithium and cobalt
Our technology avoids many of the issues that surround lithium-ion batteries and uses no lithium or cobalt. Alsym batteries are non-flammable and non-toxic by design, using readily available materials.
Safe

The Problem

Lithium is inherently flammable, and batteries can catch fire or explode if they're overcharged, overheated, or punctured. According to a recent report by the U.S. Consumer Product Safety Commission, over 25,000 overheating or fire incidents involving more than 400 types of lithium battery-powered consumer products occurred over a five-year period.

Our Solution

Alsym batteries use materials that are inherently non-flammable, reducing the associated risks to life and property, and cumulative liabilities. They contain no lithium and can be used in any application and environment.

Sustainable

The Problem

Nearly 100% of North America and Europe's critical minerals are imported from foreign countries with limited environmental regulations and human rights protections. Shipping is costly and carbon-intensive, and many of the raw materials and mining waste products connected to lithium-ion batteries are toxic to humans. To make matters worse, many parts of the world lack access to recycling programs, so batteries end up in landfills or rivers.

Our Solution

Alsym batteries are made from non-toxic materials that are readily available around the world. This helps lower total production costs, reducing the need for subsidies to promote electric vehicle adoption. It also eliminates many common supply chain and environmental challenges, such as cobalt and lithium contamination in sourcing, manufacturing, and disposal.

Scalable

The Problem

Lithium prices have risen as much as 738 percent since January 2021, while cobalt prices increased by 156 percent and nickel by 94 percent. As a result, the price of lithium-ion batteries using these minerals have risen to an estimated $160 per kWh in 2022.

Our Solution

By reducing volatility and variability of material costs, companies can reduce operating spend and easily standardize product pricing, improving the bottom line in the next generation of energy storage technologies. Alsym batteries use a simplified low-cost manufacturing process that can easily be incorporated into existing facilities, so production can readily scale to meet demand.
News and insights
As the world transitions toward clean energy to power our vehicles and buildings, technology is advancing faster than ever. Stay up to date with Alsym Energy and the battery industry.
Our team is taking on the world's greatest challenge
The future of clean energy depends on economically viable, zero-carbon electrification, which requires a new approach to energy storage systems. You can make a direct impact by helping us build the world's first low-cost, high-performance, non-flammable and non-toxic rechargeable battery. We're growing and hiring for roles in all departments.